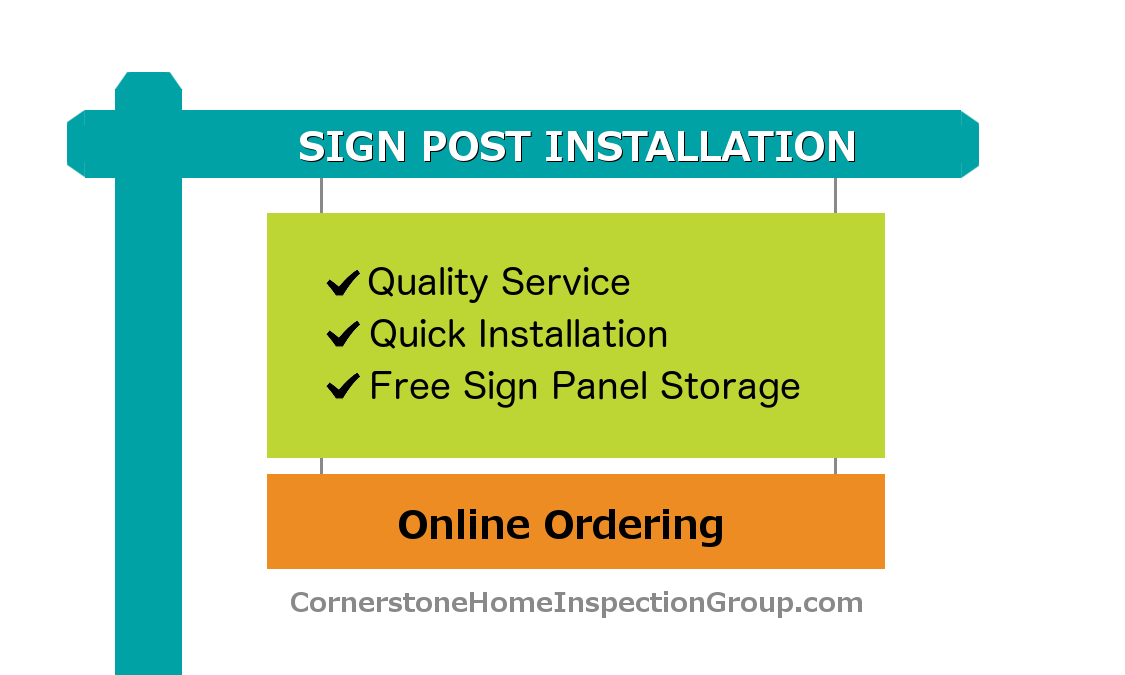 Cornerstone Home Inspection Group, LLC is pleased to offer Professional Real Estate Sign Post Installation Services for Sarasota and Manatee Counties. We manufacture and install quality pressure treated wood sign posts that always look great so that you and your marketing efforts always look professional. We understand how important the visibility of your sign post is to you. When we install your sign post, we take the extra time to ensure that your post is installed level, plumb and looks freshly painted. All you have to do is hang your panel or we can store and install your panel for you at no extra charge!
What Sets Us Apart:
Starting at $49.95 Per Sign Post*, Installed at One Location for up to 1 Year with No Recurring Charges
List Assist– The first of its kind marketing program to help you get More Exposure and Sell your Listings Faster**
Free Sign Panel Storage and Inventory Management
Convenient Online Ordering
High Quality Pressure Treated Wood Sign Posts
Sign Posts will be Installed within 72 Hours
Text Message or Email Confirmation of Installation
* Property locations in our Extended Service Area are subject to an additional fee. Please see our service area map and rates at the New Sign Post Installation Page.
**List Assist is an optional program to help your listing get more exposure so that they sell faster. All you need to do is email us (CornerstoneSignPost@gmail.com) a photo of the sign post with your panel installed, a photo of the front of the home and a link of your choice to the listing and we will share it on social media to our network of real estate professionals and business partners to get you that added boost of exposure.
Call or Text:
941-993-0216
28950 Singletary Rd.
Myakka City, FL 34251
Florida Licensed Home Inspector #HI9508
InterNACHI ID#16013009
Florida Licensed Mold Remediator #MRSR3271
Home Inspections
New Construction
Wind Mitigation
4 Point Insurance
Thermal Imaging
Roof Certification
Water Testing